The best Minecraft experiences come when playing with others. So it's no surprise that many gamers are keen to find the best Minecraft hosting server. Thousands of people every day create new servers for themselves and friends to explore newly created worlds. It seems relatively simple, right? Well, there is more to it than meets the eye. Each server hosting platform will each come with its benefits and offer different variations between player numbers, pricing, and storage limits.
It is essential to know all of these options thoroughly so that you can pick a hosting platform that best meets your game's needs. But with so many to choose from, how do you know where to look? There is no need to panic, though, as we have done the hard work and found the best Minecraft hosting servers available at the minute.
What makes a good hosting platform?
Before we start revealing our top picks, it is good to get an understanding of what makes a good hosting server. Getting a solid understanding will allow you to grasp which host has the features you need for your particular level to shine and enjoy with others in the community.
Memory
It is vital to ensure that the server provider you choose has a good memory, or RAM, figures for everything to run smoothly. If a server's memory is too low for your intended needs, it will put everything at risk of running slowly. If you want to have lots of players, you should opt for something that has high RAM amounts to avoid any performance issues once everything is operational.
Location
This may not seem so obvious at first. Still, the location of the host will also have a dramatic impact on the overall gameplay. If servers are limited to a specific location, it means that a connection will be more reliable for those closest to it. Those who are far away may struggle with lag frequently. Some servers provide worldwide hosting options reducing the issues surrounding lag and the possibility of a poor connection.
Number of Players
It is also good to look for a server platform that best matches the number of players who intend to use your server. Server host packages will cater to certain numbers and vary the offering terms based around that. If you know you may only have low numbers stretching to a maximum of 10. A more basic package might suit you better. However, if you intend to run games with 50 players or more, you will need to consider packages that offer higher limits or potentially unlimited options.
Free vs. Paid Packages
Most serious Minecraft players should opt for paid packages as it will allow you to find something that suits the type of game you want to play. Most of these will have different tiers. Each will have varying benefits, so you will need to pick carefully when browsing your options. However, if you are new to hosting games and are unsure of what you want, a free package may be more beneficial. Free plans are more restricted than paid plans. Still, they can help you get comfortable with everything before making a proper commitment.
Pricing starts from $3.99/month
Apex Hosting has dedicated its entire business around Minecraft, making them one of the world's top hosting platforms. With a large number of servers and a large support base, it is easy to see why over 100,000 gamers have chosen to use it so far.
Vast customization options – One of the biggest options that have drawn gamers to Apex Hosting is that your server can be customized in any way possible. There are over 200 different features that can be added to your interface, and all can be installed using a one-click system. Which can take just a few seconds.
Numerous servers worldwide – Apex has one of the largest collections of data servers worldwide to benefit from. They currently use 16 servers based around the world, meaning that gamers should have no issues with lag regardless of where they are based.
Vast support options – There are numerous support options available for anyone who needs help with their setups. Apex has lots of tutorials to help users solve their issues. At the same time, there is a 24/7 web chat option that customers can utilize. Alongside that, all of the data on the server is DDoS protected, giving added protection from possible cyberattacks and hackers.
Large plan options – As a dedicated Minecraft hosting server, Apex offers customers 13 different packages to choose from. These options stretch from 1GB – 16GB of memory and can host a minimum of 12 players. This makes it a great place for larger communities to gather and enjoy games. All platforms come with unlimited storage options giving the host much more freedom with the levels they choose to design.
Pricing starts from $8.95/month
One of the more prominent hosting companies around, Hostinger has become one of the leading server hosting platforms for Minecraft users. They offer several packages tailor-made for the game. They are competitively priced compared to some of the other competitors.
Plans made for Minecraft – Unlike some other hosts, Hostinger has no less than 5 different packages designed for use in Minecraft. Most plans run with 2GB of Ram, and servers can run with up to 70 players giving users a host of options to suit their needs.
Worldwide servers – With servers located in Europe, Asia, and America, there aren't many parts of the world not covered by Hostinger's services. This will help prevent much lag for players joining no matter where they are based.
Strong customer support – By offering Minecraft-centric plans, it's not surprising to find that there are many support options for customers. They offer customer service support 24/7 online and in multiple languages boosting their appeal to users worldwide. There are also tutorials that can help you troubleshoot any issues you may be having and get used to the platform if you are unsure what to do.
99% uptime – Hostinger claims that servers average an uptime figure of around 99%. With a lack of downtime, this will allow servers to be used even when the host is not online.
Pricing starts from $2.50/month
Based in Australia, ShockByte has geared many of its services towards hosting Minecraft servers in recent years, making them a popular choice. They have packages catering for small and large platforms and offer a range of support and set-up options.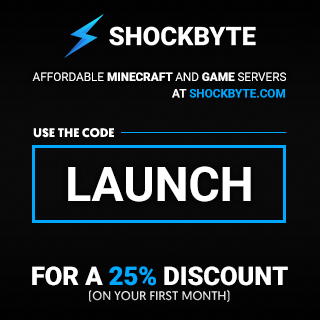 Large variety of plans – One of ShockByte's most significant advantages is the variation in their packagers. Their options range from 1GB-12GB of RAM in memory. This gives the host complete control in finding an option that will meet their needs.
100% uptime – With an uptime rating of 100%, ShockByte users should generally find that their servers will stay online regardless if they are. They have worldwide server coverage helping reduce lag times for gamers no matter where they are based.
Unlimited storage space – No matter which plan you choose, anyone who joins the platform will be able to enjoy unlimited storage space. This will be beneficial for anyone looking to enjoy loading large landscapes or servers that attract a lot of players to their game.
Instant setup – Anyone looking to get a quick start will enjoy having access to ShockByte features almost straight away after joining up. The platform allows the server to be launched as soon as payment has been confirmed, making everything a quick process for those eager to get the ball rolling.
Pricing starts from $2.99/month
Despite being a general web hosting platform, Bisect Hosting offers many options to cater to Minecraft users of all types. Bisect Hosting has a vast array of support and protection protocols in place to help protect data.
Large variety of packages – Bisect offers customers a host of different packages to choose from in both the budget and premium spectrums. The budget packages offer 1GB of memory while the most extensive package can cater for 160 players and offer 32GB RAM. With such a variety of options available, users can find something that will meet all their needs
Daily backups – To help ensure data is secure, all of the information is saved daily to one of the various data servers available to use. Alongside this, the databases are fully protected from DDoS attacks giving further protection from hackers.
Large server number locations. – To minimize lag, users will look to take advantage of Bisect owning data locations in no less than 15 different areas. This will help ease any latency issues, especially for those running servers with a large number of players.
Instant setup – All of Bisect Holding packages allow users to launch their servers as soon as they have registered. This can be applied to both the Java & Bedrock versions of Minecraft allowing users to dive right into getting their servers online.
Pricing starts from $3/month
Canada's GG Servers have grown into one of the more popular niche Minecraft server hosts. Having hosted over 500,000 Minecraft games, their customizable interface has made it one of the industry's top hosting servers. Which makes them one of the best Minecraft server hosting providers to date.
One-click installations – No matter which plan you sign up for, GG Servers offer users the chance a wide range of plugins to help vary their own game. All of these come with a one-click installation feature. This is making them easy to use and integrate into a game without much difficulty.
24/7 Support Options – For those having any issues with their system, they can look to utilize a strong network of support options. GG Servers allow customers to use a 24/7 web chat feature. Here customers can raise their issues or use a ticketing system to wait and speak to someone and let them get on top of a problem.
No storage limits – There aren't any strict limits on storage in GG Servers platforms giving users the chance to add as many plugins and mods to their game as they like. While the memory limits may hinder larger communities benefiting from this, small groups will undoubtedly enjoy worlds that are rich in detail and variety.
Pricing starts from $3/month
Since 2013, MelonCube has grown into one of the more reliable Minecraft hosting servers dedicated entirely to just Minecraft. They have hosted over 10,000 servers since they were first formed and are ever expanding their range of services to gamers worldwide.
Go in and go big – There are a host of packages available to subscribers; however, their biggest plan is what catches the eye. The "MC-48" plan comes with a staggering 48GB of RAM and allows the host both unlimited storage and unlimited player slots. This will undoubtedly appeal to the larger Minecraft communities looking for something to sustain all their whims and desires.
Fast connection – No matter which plan you choose from, all users will benefit from a high-speed connection to their server database generating 2.0gbps. This, along with server locations in both Europe and North America, should help run games without any significant lag issues.
Vast support options – Like many of their competitors, MelonCube offers a host of different support options available to customers. This ranges from live chat and online support features to a host of online tutorials. The tutorials cover everything from dealing with connection issues to setting up a server and even pre-sale information, making it one of the more in-depth guides around.
Protection protocols – MelonCube has also implemented a lot of security features to protect its client's data. All hosted servers are backed up automatically, and users can manually choose to backup when they desire. Alongside this, all of their data servers are DDoS protected to help prevent access to hackers and cyber-attacks.
 Pricing starts from $6/month
British firm GTX Gaming is one of the more popular web-hosting companies for gamers worldwide, including many endorsements within the Minecraft community. Their worldwide coverage and vast support network have been widely lauded and regularly updated to ensure that players get the most from their services.
Worldwide coverage GTX has some of the best coverage when it comes to server locations. They have 28 locations spread across 5 different continents, meaning that gamers worldwide can access their systems without experiencing any connection issues or battles with lag.
Mobile compatible – Unlike other platforms, users who go with GTX will be able to run their platform via their computers or phones. Their development team has modified their interfaces to be used capable within a mobile app giving users the ability to run a server either from home or on the go.
24/7 support – As their server reaches all 4 corners of the globe, they also offer 24/7 support to anyone having issues. This comes via a web chat system and there is also a ticketing system someone can turn to if they are unable to reach someone via web chat.
Daily backup – To protect users' data regularly, they automatically update servers daily. Each of their server bases is DDoS protected and have high-speed connections to ensure minimal disruption to a live server.
One of the leading game hosting platforms globally, MCPro Hosting has hosted over 900,000 games since its inception 9 years ago. With a lot of their services tailored mainly for Minecraft users, it is no wonder why many people have flocked to the platform.
Worldwide coverage – With over 20 server locations scattered around the globe, users shouldn't have any problems when it comes to connection issues. The servers are located on 4 different continents, meaning that players joining your server will not have any latency issues when joining a game.
Specific Mobile Platform – As more players switch to mobile gaming, MCPro has created a mobile app to allow the server host to access their platform while on the go. This means that you don't always have to be fixed to one location to enjoy your game and connect with friends online
Specialist file recovery – Along with their daily backup feature, MCPro also allows users to recover lost files from their storage bank. File storage can go back to at least 6 months in the past and is free of charge, making it a convenient way to access anything that you thought you might have lost.
Variety of plans – Considering their large customer base, MCPro offers a variety of packages for users to consider. The smaller plans allow a minimum of 1GB RAM for 20 players. At the same time, the largest packages give users unlimited memory and player slots, making it ideal for big communities to get games running.
Pricing starts from $5/month
Host Havoc may not be the most prominent server host around. Still, they offer a wide variety of services that can satisfy all a gamer may need. With worldwide server coverage and a vast support network, there isn't much that a host won't find with their domain
Worldwide servers – With 11 servers in America, Europe, and Australia, users will find that they will have good connections wherever they are located. This can help connect with family and friends who may be based overseas and avoid any connection issues.
Vast support network – Host Havoc has prided themselves on offering a strong support network should you have any problems. They have a live 24/7 web chat feature to allow ongoing support whenever you need it. The ticketing system looks to have users connected with technical support within a 15-minute window.
Variety of plans – It can be tricky to know what you want; however, Host Havoc offers a host of different plans to suit a client's needs. They have 8 plans available to choose from, and this will allow you to see which plan best fits your needs and the community you are looking to build online.
Pricing starts from $7.60/month
If customization is something you enjoy, ServerMiner should have all your needs covered. With over 50,000 mods available to browse through and packages catering for up to 100 players, the options are virtually limitless should you opt to go with ServerMiner.
Endless customization – With the ability to create infinite worlds and with over 50,000 mods to access, the host has the world at their fingertips. Each mod comes with a simple one-click installation method making it a great place for the more creative to create the world of their dreams.
Large community support – ServerMiner's packages look to cater to large online communities and give them the chance to thrive online. The smallest package will allow up to 20 players and 1GB of memory. The largest package will cater for up to 100 players and 10GB of memory, making it an excellent choice for large communities.
Data recovery – With files regularly stored automatically and with DDoS protection, users shouldn't have to worry about losing their files. Alongside that, a client can recover any files lost within seven days. Meaning that if you can't find a file that you are looking for, you can contact their customer service base and retrieve it without any extra cost.
Conclusion
As you can tell, there are many server options to choose from when looking to host their own Minecraft world. It does take some research and time to find the exact right package for your needs. As long as you know roughly how many players you are catering for. It should be easy to find a package that gives you all the memory and storage you need to get started. After that, it is a case of analyzing the cost and knowing just how much control you want to have over your worlds. Once that is all settled, you should have no trouble finding the best Minecraft hosting server for your needs.
If you're also into other games like Rust, we've rated the top hosting for that game too.